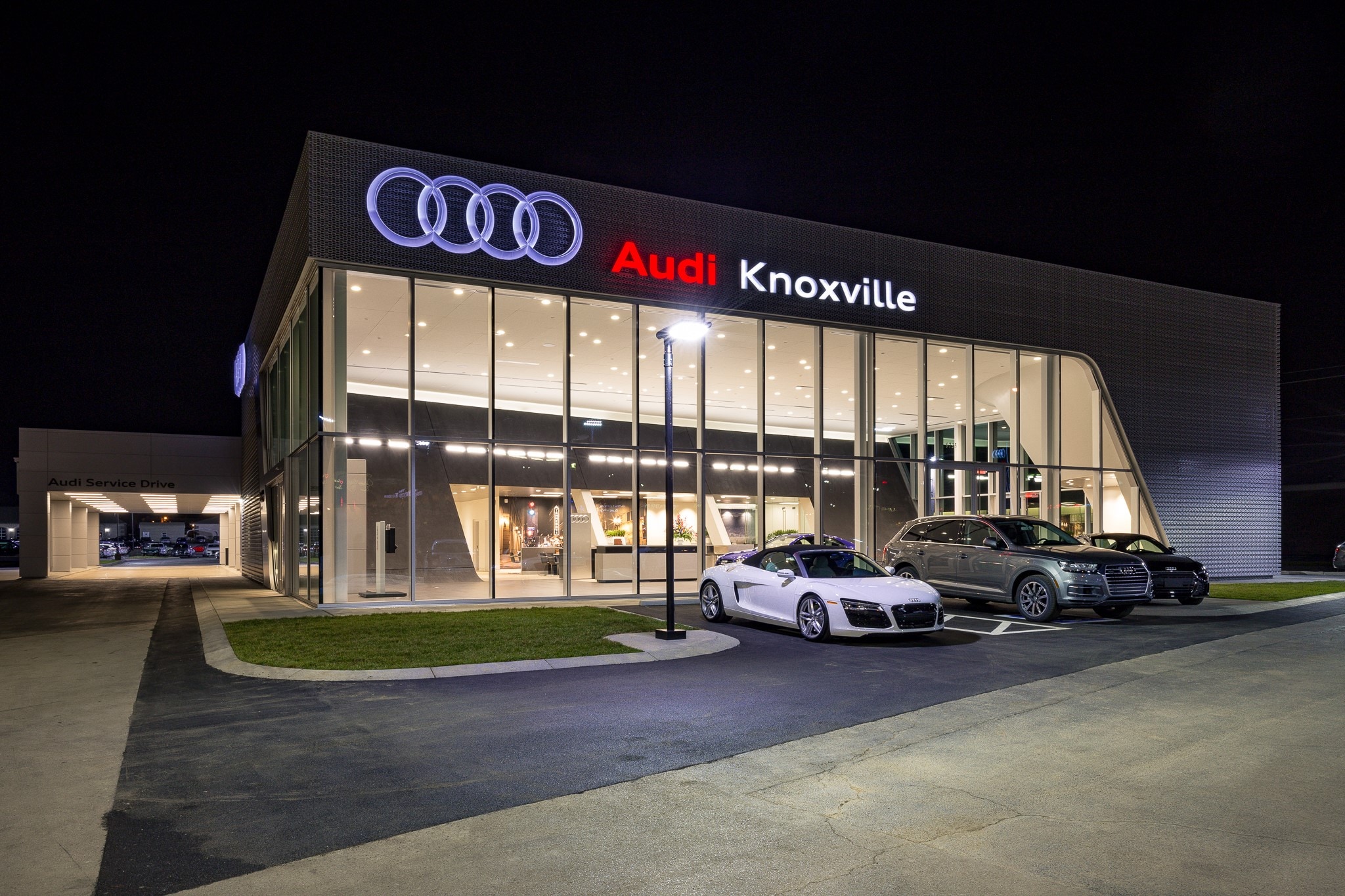 We are proud to have the most knowledgeable and honest Audi staff in the nation.  When dealing with our team you will receive what has been described as the "easiest car buying experience in the South."  Tom & Shannon Harper, the owners of the dealership, are involved daily in ensuring your satisfaction. You can e-mail our owner and receive a personal response, shannonharper@harperdealerships.com
Service:  Since 1981, we have taken pride in delivering a level of service corresponding with our world renowned assortment of Audi automobiles. Our sales and service associates take customers requests and considerations to heart, and thrive at developing long term relationships. You can always rely on our expert, honest advice, and expertise in our respective fields.  We are proud recipients of the Audi Magna society award for outstanding performance in customer experience, business excellence, and sales satisfaction.
Community:  No other Knoxville dealerships do what Harper does for its community and its employees.   Harper is a two-time winner of the Knoxville News Sentinel Top Workplaces award. We consistently support the United Way, Knoxville Inner City Kids Outreach (KICKO), Dogwood Arts Festival, American Diabetes Association, Junior Achievement East Tennessee, Boys & Girls Club, Emerald Youth Foundation, American Cancer Society, McClung Museum, American Heart Association, as well as our own foundation, Ruthie's Fund.  Ruthie's fund is run by Tom Harper as a dollar for dollar charity that donates ALL funds to the families of cancer patients in need of help. Harper Audi Knoxville sponsors multiple track days, Auto Show trips, Cars & Coffee events, and more each and every year. We are dedicated to the loyal community of customers and Audi enthusiasts like no other dealer in East Tennessee.
Harper Auto Square Cars & Coffee: Founded in 2012 under the direction of Harper Auto Square Marketing Director Bill Johnson, Harper Auto Square's Cars & Coffee has grown from a 75 car event to the premier Cars & Coffee event in the South East. With over 6,000 cars and 10,000 guests per event, Harper Auto Square's Cars & Coffee draws guests from all over the region. Additionally, in conjunction with WBIR Channel 10, Harper Auto Square is proud to be the first to broadcast Cars & Coffee events on television.  Event attendees enjoy the wide variety of vehicles, new inventory on display from Harper Auto Square's 9 luxury dealerships, custom Cars & Coffee merchandise, and free dash plaques and refreshments complimentary of Pilot Flying J Travel Centers.
Visit Harper Audi Today and Browse Our Inventories of Exceptional New and Used Cars
Harper Audi has served the Knoxville community for many years. We've gotten to know many of you who have trusted us as your dealership of choice. And we value your business. That's why we carry diverse new and used inventories that give you lots of options. Buying a car is a fun experience. But it's also important that you have a variety of models to choose from. Whether you want to buy a new Audi or an affordable used car, you can always depend on us having the largest inventory near Nashville, TN.
Customer Service Commitment
Customer satisfaction is a top priority for our dealership. It is the foundation for building trust and ensuring that our Chattanooga clientele returns. Our commitment to first-rate service begins with our outstanding sales professionals. They have a broad knowledge of Audi vehicles, so they're able to answer your most complex questions and aid you in finding the model that's right for you. Our finance team looks for solutions, and your satisfaction is paramount. We want you to be happy with every aspect of your deal. That includes parts and service to keep your car in peak condition for years to come.
Visit Us
Is a new Audi or late-model used car in your future? Are you just beginning your search and haven't decided yet? Do yourself a favor, visit Harper Audi near Johnson City today. We will gladly provide a full presentation and a test drive of any vehicle you find appealing. Our primary goal is to assist you with choosing the right car. If you have a vehicle you want to trade in, our dealership wants to offer you top value for your car, following an appraisal. Use our free trade assessment tool before visiting for a head start on getting your best deal at our dealership!